A lot of buzz recently has been how Twitter was faster to alert people around the recent earth quakes than news organizations. This has led to some conversation about Twitter's business model and potential applications for businesses.
A few weeks ago I had some thoughts about Twitter and its possible development of an emergency alerting tool (I'll post sometime soon – though I may back-date it) – among other things. However, in reading some recent blog posts, I see Twitter's ability as a Web 2.0 news and information aggregator as being the immediate advantage because unlike many news organizations – people consider Twitter "faster, unspun" with the negative of news organizations being that they are not participatory or focused on sharing.
WAIT A SECOND! HOLD THE PHONE!
No sooner had the statement about news organizations not being "focused on sharing" sprung forth and into this blog post, than I discovered a news organization mentioned in a blog post that IS using Twitter to reach out to its specific communities and engage people in conversations (I am sure there are many more, btw).
NBCi4 – MIDWEST
Using Twitter allows reporters, editors and columnists the ability to get real-time stories from people on the ground as well as drive content to people via Twitter, and get specific feeds mentioning their news organization in the different Twitter search engines. So, Twitter is a natural fit for every kind of mass media.
See page where I got the above screen shot at: http://www.nbc4i.com/midwest/cmh/news/nbc4now.html.
The value for radio, tv and newspaper is clear… engage your audience, expand your coverage, grow your audience, and help drive people back to your web properties (where monetization can in many instances occur).
From a marketing perspective, I think a key development strategy (for companies involved in the widget / desktop application space) is integrating Twitter with social communicators / desktop applications / widgets. Doing so would create a "must have" application for news organizations (as well as other markets). Direct Twitter conversations could fuel traffic to radio contests, news / network events, broaden community activism, and much, much more.
As far as emergency managers are concerned, using Twitter within a desktop application or somehow finding a way to convert the Twitter feed (this would take some technical experience with the Twitter API to determine if such an approach were possible) into a CAP (common alerting protocol) message, would create another inbound and outbound communication stream. Alert managers could receive real-time information that could be shared with first responders and others. Likewise, alert managers also could distribute messages via a CAP-based system to Twitter, and thereby reaching their constituents through another touch point. Such an option, for example, would prove enormously useful on a college campus.
In the end, I think the technical and business applications for a simple micro-blogging platform, like Twitter, are starting to come to the head. The question on my mind now is… is Twitter already working with a company on integrating its system with an emergency alert solution, and how many other widget / desktop application / social communicators out there will heed the call and integrate Twitter functionality into their products for the benefit of their customers.
It took a man just 150 helium balloons and lawn chair to become an instant sensation. The man I'm speaking about is Kent Couch, who pulled together the makeshift airship in an attempt to go from Bend, Oregon to Idaho.

(AP Photo/Jeff Barnard)
On the surface, this may seem like hardly the right imagery to describe using social media for innovation, but in a way its not.
Couch is an adventurer, and willing to suspend conventional thought to try something a bit off the wall. At its essence, those are the qualities that get us all looking at the world with less routine and dreaming big.
Now, this may sound crazy, but think of Couch's idea and how there may be parallels to your business – its marketing initiatives or product development. What did Couch do to get his balloon-lawn-chair to take off?
Well, we can speculate that he had the desire to do something different, and thought up the idea to travel by balloon in his lawn chair. Next, he probably evaluated how many balloons it would take to get him airborne, based on his weight and the weight of the chair, etc. After that, he figured out what was realistic in terms of how far he should expect to go with the craft he built. Finally, he set out to build, test, and launch his idea.
All in all, a pretty familiar process to many of us, right?
In fact, Couch is said to be equipped with a BB gun and a blowgun to pop balloons should his altitude get too high and 15 barrels of cherry Kool-Aid to release if he gets too low to the ground. So, for fun, we can round off this example and say that both those things, the BB gun and the Kool-Aid, represent customer response – designed to bring him down to earth when things get out of hand and to give him a boost of steam upward with ideas fueling innovation and growth.
When it comes to developing innovative uses of social media, we all need to think a little bit differently to solve conventional challenges. Social media is all about connection and communication with other people. The growth of social networks, interactive platforms, and technology that links people together has been phenomenal, and continues to move at a fast pace. This means there are no bad ideas, or unworthy experiments, because what seemed to be impractical or impossible one day could be the opposite tomorrow.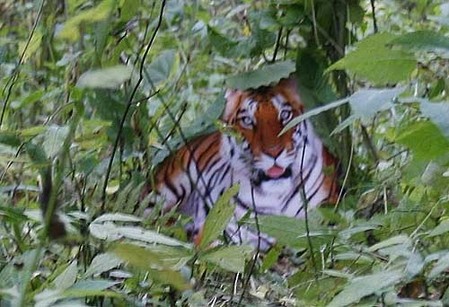 In yet another series of examples from the real world, we're reminded of the power of social media and people to not only expose fraud, but also demand accountability.
Larissa Fair of Livingston Communications tweeted on an AP story that appear on CNN.com (Faked tiger photo sparks Web furor) recently about the use of a fake tiger in what appeared by the Chinese online community to be another example of the government ignoring common sense and using false images and lies in their never-ending propaganda campaign.
The story is a simple example of fraud. A poor farmer, responding to a contest, used a poster of a tiger and placed it in various angels in the forest. Using a digital camera, the farmer created the appearance that there was, indeed, a tiger in the woods. However, the shininess of the image and the fact that tiger never changed its pose or position, despite being photographed from multiple directions, immediately fueled speculation of a fraud.

(Xinhua)
The government, however, thought they had a propaganda coup on their hands. Instead of investigating the possibility of a fraud and the growing skepticism online, the local / regional Chinese government used the image's popularity to promote tourism to an economically depressed area. When the challenges to the image's authenticity grew, the government did not back down – remaining resolute in its affirmation. Ultimately, the pictures were so wildly recognized as a fraud, that government had no choice but to admit as much.
But the damage had been done.
The result of a poor farmer's desire to make money from a government-run contest for photographs that showed proof of the rare animal's existence, and the government's effort to allegedly boost tourism to an impoverished part of the country with a story of a rare tiger sighting, only furthered the mistrust many of China's citizens have for their government.
In a country where the disparity in wealth from those who live in rural regions compared to the cities is substantial, citizens were fairly forgiving of the farmer, who the government later punished for fraud. However, they were less forgiving of the government which failed to hear protests or assertions from the online community that the photo was faked, and later refused to accept real responsibility for the spread of the photo – only offering a meek acknowledgment that the photo was not genuine.
When a tribe and ethics are LOST
Another example occurred with the now infamous "lost tribe" photographed a few months ago. The media picked up on the photographs, and reporters identified the tribe as being undiscovered and not having interacted with people outside of their tribe.
(Gleison Miranda, Funai /AP Photo)
After some investigation by The Guardian, the photographer revealed that the tribe was not lost, but indeed had been known for over two decades. His efforts to demonstrate their presence was an attempt to force "Peru to re-examine its logging policy in the border area where the tribe lives." The pictures were taken, he had said, to help draw attention to them and discourage development that may poach on tribal territory.
Many media outlets were hesitant to identify what many were considering a hoax and issue a retraction. So much publicity had been made of the discovery – some news outlets were fearful of admitting to having been duped.
After the Guardian story came out and more media began to call the discovery a hoax, the organization that employed the photographer, Survival International, protested the Guardian's characterization of the tribe being "lost". According to a piece on ABC.com, Survival International's director Stephen Corry said in response that "The [Guardian] article claims to 'reveal' that the tribe photographed was neither 'lost' nor 'unknown.' The reality is that neither Survival nor the Brazilian government claimed they were."
So, who is REALLY at fault here?
The mass media is at fault for not fully vetting the story, but at the end of the day, Survival International bares the most blame for the characterization of the story and also its fall-out. Just because Survival International never said the tribe was "lost", full disclosure in a discovery of that nature is paramount. Making a more detailed disclosure after release of the news created the appearance that the organization, much like the Chinese farmer and the government, had perpetuated a fraud. Parsing a few words and being "technically" correct, however subtly, is not a valid excuse anymore.
What do both examples teach us?
What I found interesting about both stories is that they remind us how fast information can travel on the internet, and how important listening to your audience and taking responsibility can be.
While the Chinese government claims to have learned from the situation, the only real lesson is that command and control does not work when people have access to the internet and social media tools. As much as the government works to suppress communication, it continues to fight a losing battle and in the process, alienates itself from its citizens prompting revolt both virtually and in reality (one wonders why the US does not employ the same strategy with Cuba, but that's a blog post for another day).
Survival International had a strong opportunity to draw attention to its core mission, but failed by not providing enough information and making sure media outlets received the full story. At the end of the day, a fascinating discovery and the plight of indigenous tribes in the Amazon was overshadowed by weather or not Survival International and its photographer had misled the world.