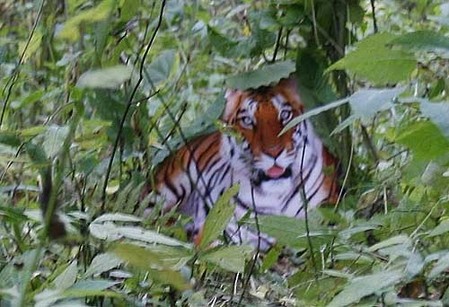 In yet another series of examples from the real world, we're reminded of the power of social media and people to not only expose fraud, but also demand accountability.
Larissa Fair of Livingston Communications tweeted on an AP story that appear on CNN.com (Faked tiger photo sparks Web furor) recently about the use of a fake tiger in what appeared by the Chinese online community to be another example of the government ignoring common sense and using false images and lies in their never-ending propaganda campaign.
The story is a simple example of fraud. A poor farmer, responding to a contest, used a poster of a tiger and placed it in various angels in the forest. Using a digital camera, the farmer created the appearance that there was, indeed, a tiger in the woods. However, the shininess of the image and the fact that tiger never changed its pose or position, despite being photographed from multiple directions, immediately fueled speculation of a fraud.

(Xinhua)
The government, however, thought they had a propaganda coup on their hands. Instead of investigating the possibility of a fraud and the growing skepticism online, the local / regional Chinese government used the image's popularity to promote tourism to an economically depressed area. When the challenges to the image's authenticity grew, the government did not back down – remaining resolute in its affirmation. Ultimately, the pictures were so wildly recognized as a fraud, that government had no choice but to admit as much.
But the damage had been done.
The result of a poor farmer's desire to make money from a government-run contest for photographs that showed proof of the rare animal's existence, and the government's effort to allegedly boost tourism to an impoverished part of the country with a story of a rare tiger sighting, only furthered the mistrust many of China's citizens have for their government.
In a country where the disparity in wealth from those who live in rural regions compared to the cities is substantial, citizens were fairly forgiving of the farmer, who the government later punished for fraud. However, they were less forgiving of the government which failed to hear protests or assertions from the online community that the photo was faked, and later refused to accept real responsibility for the spread of the photo – only offering a meek acknowledgment that the photo was not genuine.
When a tribe and ethics are LOST
Another example occurred with the now infamous "lost tribe" photographed a few months ago. The media picked up on the photographs, and reporters identified the tribe as being undiscovered and not having interacted with people outside of their tribe.
(Gleison Miranda, Funai /AP Photo)
After some investigation by The Guardian, the photographer revealed that the tribe was not lost, but indeed had been known for over two decades. His efforts to demonstrate their presence was an attempt to force "Peru to re-examine its logging policy in the border area where the tribe lives." The pictures were taken, he had said, to help draw attention to them and discourage development that may poach on tribal territory.
Many media outlets were hesitant to identify what many were considering a hoax and issue a retraction. So much publicity had been made of the discovery – some news outlets were fearful of admitting to having been duped.
After the Guardian story came out and more media began to call the discovery a hoax, the organization that employed the photographer, Survival International, protested the Guardian's characterization of the tribe being "lost". According to a piece on ABC.com, Survival International's director Stephen Corry said in response that "The [Guardian] article claims to 'reveal' that the tribe photographed was neither 'lost' nor 'unknown.' The reality is that neither Survival nor the Brazilian government claimed they were."
So, who is REALLY at fault here?
The mass media is at fault for not fully vetting the story, but at the end of the day, Survival International bares the most blame for the characterization of the story and also its fall-out. Just because Survival International never said the tribe was "lost", full disclosure in a discovery of that nature is paramount. Making a more detailed disclosure after release of the news created the appearance that the organization, much like the Chinese farmer and the government, had perpetuated a fraud. Parsing a few words and being "technically" correct, however subtly, is not a valid excuse anymore.
What do both examples teach us?
What I found interesting about both stories is that they remind us how fast information can travel on the internet, and how important listening to your audience and taking responsibility can be.
While the Chinese government claims to have learned from the situation, the only real lesson is that command and control does not work when people have access to the internet and social media tools. As much as the government works to suppress communication, it continues to fight a losing battle and in the process, alienates itself from its citizens prompting revolt both virtually and in reality (one wonders why the US does not employ the same strategy with Cuba, but that's a blog post for another day).
Survival International had a strong opportunity to draw attention to its core mission, but failed by not providing enough information and making sure media outlets received the full story. At the end of the day, a fascinating discovery and the plight of indigenous tribes in the Amazon was overshadowed by weather or not Survival International and its photographer had misled the world.
After making my initial post about Blog Potomac, I've decided to write something shorter along the lines of customer interaction.
Lionel Menchaca, Digital Media Manager and Chief Blogger at Direct2Dell, had some excellent points during Blog Potomac that deserve some mention in this space.
For one thing, Menchaca started in tech support providing information and support to customers. This experience gave him crucial insight into both the issues from Dell products that were negatively impacting customers, as well as how Dell customer support was causing anguish and frustration.
One of the important themes in Menchaca's presentation was the need to "listen" to what people were saying. For Dell, learning about what customers were talking about – the core listening stage- helped them to understand the fundamental issues at stake, which in turn helped to drive solutions.
Another important factor for Menchaca was to establish his voice as a blogger, and learn how to connect with other people. Customer support is not only about listening and responding with technical answers, its communicating those answers in a clear, friendly and understandable manner. When its done correctly, the results are going to be worth it.
Of course, managing the dialog you have with your customers not only depends on listening and communicating, but also managing expectations. You have to know the limits that exist within your company, and not risk over-promising and under-delivering for your customers on support issues.
Playing the expectation game also is not something reserved for the customers. Internal managers are interested in the results from customer support oriented blogs. The key here is to make sure that executives and managers understanding that a learning curve exists for everyone. What's more, people need to recognize that positive as well as negative conversations are going to take place in this environment. As Geoff Livingston would say, "You cannot control the conversation". However, convincing your CEO or direct supervisor that having "negative" conversations is just as valuable is not an easy task.
When its all said and done, Menchaca mentioned some other challenges that are important for many businesses that seek to establish a blog for customer support:
You need to recognize the challenge for your support staff in balancing blogging and other customer support responsibilities. Time management is a crucial issue.
You need to understand who you customers are. Do they ALL speak English as a first language, for example? Menchaca mentioned how Dell has a real challenge blogging in the European market, because there are so many languages.
Issues take time to develop, but so do answers. This means you need to help your customers understand that a response is coming, but it may take time. Larger technical issues can take weeks to resolve. Patience is an important component of customer service.
Personal interaction can go great lengths to change perception of your company. If you company improves is level of personal connectivity and interaction, the results will show. Dell used to have very high negatives when it came to its customer support.  However, hard work and dedication to positive engagement helped turn many of those challenges around.
Lastly, I think it is important to note that if you blog with your customers in mind, and work towards establishing relationships – you can drive improvements in your company's brand, reputation, product development, and in some cases, customer satisfaction, which is ultimately measured in repeat business and referral business. Dell has proven to be a good industry case study of this approach.
Last Friday, June 13th (yes, Friday the 13th), I ventured to Blog Potomac, where Geoff Livingston and his team at Livingston Communications, the folks at Viget Labs, WordBiz.com, Inc., and others put together a premiere social media marketing event for the greater Washington DC area at the State Theater in Falls Church, VA.
First of all, I should probably change the title of this blog entry to read "DC Marketing and Communications Professionals Gather for Blog Potomac". When asked who was in marketing, communications or PR, close to 200 hands went up, prompting the emcee, Josh Hallett, to say, "Holy shit!"
But true to its form, Blog Potomac was exactly what marketing and communications professionals needed – a solid event geared around social media.
THE STARTING POINT
One topic discussed over and over again during Blog Potomac was about starting a blog at the corporate level. For anyone who has tried to get their company more engaged in using social media, writing a blog has been the logical starting point. With bloggers permeating mass media and popular culture, the chances your corporate executives have heard about and even read a blog or two is pretty high. Whereas, going to the CEO or division head about initiating a company Twitter account might get a more skeptical response.
Before your blog initiative gets underway, there are some important factors you need to take into account, which the speakers discussed during Blog Potomac.
As Maggie Fox noted during her presentation, people have to want to do it. As Fox notes, "often the leaders you want to get involved are the ones with the least amount of time." This means, as a marketing and communications professional, you need to find those individuals who not only want to blog, but are able to write and have something to say that is going to be of value to your audience.
To get executives and other busy professionals engaged, you sometimes need to offer a "carrot". This is typically something that is unique to the individual whom you want to blog. In some cases, it could be their gaining name recognition in their industry, joining a community and building new relationships (the right people in business development and customer service are natural fits for this), or perhaps there is some measurable statistic or case study from a similar organization you can point to that can be a compelling force. At the end of the day, the "carrot" cannot replace individual motivation – it can only help to whet someone's appetite and spur them on.
Perhaps most important component to any social media or public relations initiative is building the strategy behind the activity, and the ability to measure before, during and after. Whether it is launching a blog, holding regional press meetings, creating a corporate presence on social networks like Facebook, or using Twitter (and to a lesser extent, Plurk), you need to know what you want to accomplish and establish some sort of baseline from which to measure. You also need to think about how the program is going to run over the long haul, what happens if it should end, and to remember through out that it is not about the "eyeballs" but rather the relationships you are starting to build.
ONCE YOU ARE ROLLING
Assuming you have built an initial strategy, have your team assembled and everyone is ready, willing and able to contribute (no small task in itself), another critical component is measurement.
If your organization is remotely skeptical about the value of blogging, being able to identify some return is going to be critical to continued support and future development. To that end, no one's presentation was more anticipated than KD Paine's talk on measurement and value.
One of the most important things Paine discussed was how measurement to many marketing and communications professionals is equated with monitoring. Paine noted that "measurement says, I've done something over here… I've started to listen and as a result something over here is happening…" Marketers certainly monitor web traffic, PPC advertising campaigns, and the like, but the key is not watching results as much as it is measuring how something has happened based on some other action that took place earlier – and evaluating those results against the goals you have set.
It all starts, according to Paine, with identifying what return you want from your marketing initiatives, what investment you want to put in, and start with some kind of benchmark for evaluating your success.
An important point Paine stressed in this context was that you "cannot measure via eyeballs."
Measuring the amount of eyeballs, Paine said, was one of the most common mistakes people make. For example, if you developed a website or launched a widget and measured strictly on eyeballs, what are you gaining? In business, eyeballs are never the most important factor; leads and business opportunities are. Items such as downloads of a white paper, purchases of a publication or software solution, clicks on advertising, and the like are all specific results stemming from goals your team sets. At the end of the day, it all comes down identifying your goals and then measuring based on that criteria.
KD Paine's points were all about getting back to what you and your business / organization want to do, and making sure you are keeping track and measure the right things.
Some questions for consideration along this line are:
How are you currently engaging the customer?
What is the value of this engagement to your business?
What about your corporate reputation? Is this positioning your company the way you want to be positioned?
Are you out there with people who are paying attention to you? To your message?
What are people saying about you, your company, your product line?
What is your goal in reaching out to a specific community?
Are you actively listening and engaging the community?
LET'S MORALIZE
Lastly, Kami Huse, MyPrPro, gave a very solid presentation on blogging ethics. As with many of the presenters, Kami was quick to point out that "blogging is not a sales channel. It's a conversation channel." If you treat your blog as just another sales tool, you are going to miss the point of blogging altogether.
Kami included a number of examples in her presentation, but the main take away, from my perspective, is that when managing a blog you need to stay away from manufacturing things (ie, fake outrage or a fake persona or online identity), and stick to building an honest identity and honest relationships.
If we accept that social media, and blogging as a subset of that, are about building relationships online, trust is such an important factor. Misleading people online is deadly, because it can destroy your company's credibility in ways you cannot calculate. Huse suggested that we become anthropologists of social media – in the sense that we study the culture of the communities we are participating in, so we know what is acceptable online behavior and what is not acceptable. The same holds true of the standards you create for your own company and its blog initiative.
IN CONCLUSION
As with any one-day conference or un-conference, a lot of material tends to get rolled into the various presentations, experiments take place with speakers, topics, and formats, and challenges occur (the lack of wireless was the only real frustrating element). But as this was the inaugural Blog Potomac event, it was an exciting start to what I, and many others in the DC region hope will be an annual event for many years to come.
Though the focus was overwhelmingly on blogging, everyone recognizes that there is more to social media than just a blog. However, taking that first step in using social media for your company or organization is not easy, and blogging can represent the easiest way to step forward. In that regard, Blog Potomac accomplished a valuable service – stressing the fundamentals marketing and communications professionals all need to consider.